Sonnet Tempo SATA II x1 PCIe Card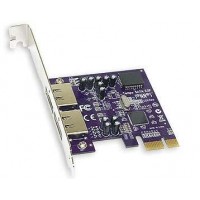 Add Two eSATA Ports to Your Computer
Are you planning to incorporate external data storage in your computer setup, but need a SATA host controller card to make the connection? Install a Tempo™ SATA E2P—it's an affordable solution for adding external SATA ports that enable you to hook up single and multi-bay SATA drive enclosures for your mass storage needs.
Supports Up to 10 Drives
SATA drive enclosures offer flexibility not found in fixed drive installations inside a computer. Many offer swappable drive trays, which are perfect for managing daily backups and multiple projects, and most are portable. Some enclosures feature port multipliers, which enable up to five hard drives to communicate with the host adapter through one cable. Not all host adapter cards support port multipliers, but Tempo SATA E2P does—through its two ports, this card can handle up to ten drives!
Tempo SATA E2P is versatile. It supports the RAID features of OS X and Windows. It also supports hot-swapping of drives under OS X. Installation is simple—just plug in the card to any available PCIe slot, start your computer, and install a driver. When you need to add flexible, portable storage to your setup, Tempo SATA E2P gets you connected.
Key Features
Affordable solution for adding two eSATA ports to your computer
Supports single and multi-bay SATA drive enclosures, including those with port multipliers or hardware RAID controllers
Supports up to 10 hard drives
Supports hot-swapping of drives
Supports OS X® and Windows® RAID features
Supports Sonnet-exclusive locking eSATA data cables